The Mercedes-AMG S63 Coupé, then, is a car with all of Mercedes' semi-autonomous active lane keeping, speed limit and braking assistance systems, with the latest onboard connectivity and digital concierge systems and with Mercedes' Magic Body Control camera-based active hydraulic suspension that scans the surface of the road ahead and prepares the suspension specifically for the bumps it's about to encounter.
AMG's 4.0-litre twin-turbocharged V8 supplies the S63 with every bit as much power and torque and it needs, and the suspension strikes a clever compromise between isolation and driver engagement that does just enough to keep you interested in the driving experience but also makes the car feel superbly refined and long-legged.
Save money with new S-Class Coupé deals from What Car?
McLaren's new GT really seems to have put the 'super' back into the Super GT class. On the face value, the GT seems to have more in common with a supercar than an elegant grand tourer, what with its carbon tub and mid-engined, strictly two-seater layout. But with the lines between vehicle classes becoming increasingly blurred across the entire industry, it doesn't seem totally surprising that we now have a McLaren that can supposedly mix it with the likes of Bentleys and Aston Martins. 
Of course, McLaren pulled a similar trick with the excellent 570GT. But where that car was an adaptation of an existing model, the GT is its own standalone model. So you get even greater storage space, a more lavishly finished cabin, and a slightly softer suspension tune. Its 4.0-litre engine is also down on power compared to that of the 720S, but 612bhp and 465lb ft ensures the GT is still startlingly quick in a straight line.
It's a peach on challenging roads too – incisive and agile with feelsome, precise steering. In fact, if driving pleasure is at the very top of your list of requirements, this could be the GT car for you.
There is a compromise, though. As comfy as it is by McLaren standards (and these standards are very high indeed), next to the Aston Martins and Bentleys that sit at the top of this class, the McLaren doesn't quite compete for genuine long-legged touring ability. 
A full road test will deliver the final verdict imminently, but based on our early first drives the McLaren GT isn't quite as convincing as its cheaper 570GT sibling.
Save money with new McLaren deals from What Car?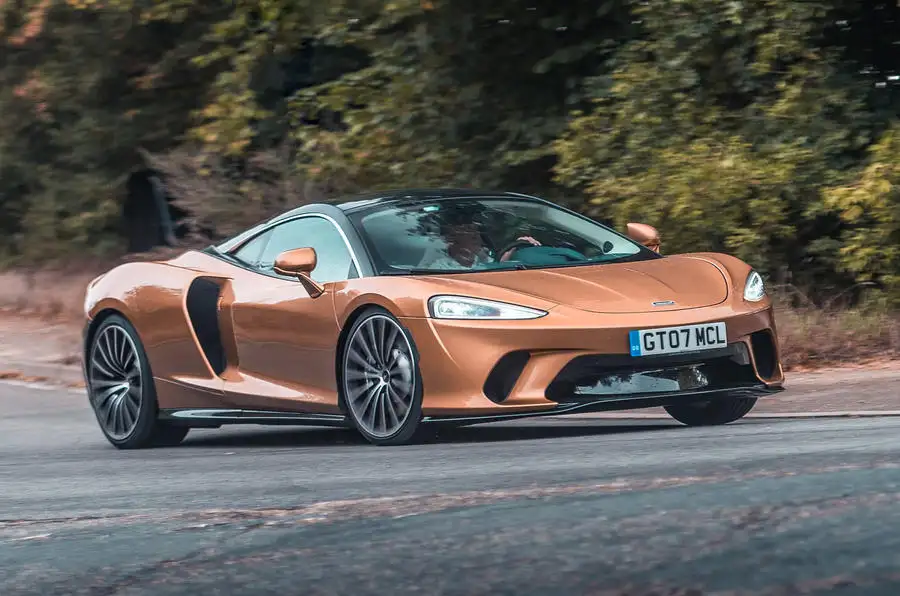 Source: AutoCar.co.uk